The harvesting period is a very important time for any grower as you have patiently tended your plants and now this is when you reap your rewards. But what is the best method of trimming your leaves once the plant is harvested? There are differences in opinion in the cannabis growing world as to which method works best – wet trimming or dry trimming. Here we explain a bit more about each of these methods, and their pros and cons.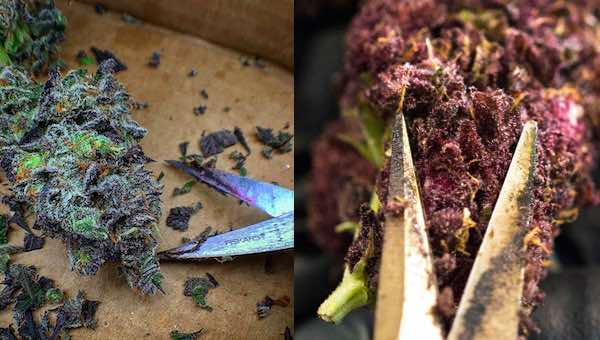 Wet trimming is better for:
Beginners to growing as it is easier to get it right
Avoiding mold
Prettier buds
Dry trimming is better for:
Flavor and aroma
Allowing your buds and leaves to dry out at their own pace
Shortening the cure time
What is the difference between wet trimming and dry trimming?
To start off let's look at the differences between wet trimming and dry trimming. Wet trimming is the art of removing the leaves from your plants as soon as they are harvested (so when the leaves are still 'wet') and is a popular method amongst growers. Dry trimming, on the other hand, requires a little more patience. With this technique, the cannabis plants are dried out first and then the leaves are trimmed from the plant afterward.
What are the pros and cons of wet trimming?
Wet trimming is the recommended method for those that are beginners to growing as it easier than dry trimming, so this could be the right method for you if you are just starting out. There are a few reasons that it is more straightforward – the leaves are easier to get to when wet whereas when they are dry they can get stuck to the flowers, this makes the process not only easier but also faster.
Another benefit of wet trimming is that you won't be faced with moldy buds which can occur if left to dry out with the leaves still attached. This is more likely to occur if you live in an area with high humidity so it is worth considering wet trimming if that refers to you.
With wet trimming, your buds will also be a little prettier. However, one of the cons of wet trimming is that your flowers won't be as full of flavor as they would be following dry trimming.
What are the pros and cons of dry trimming?
Dry trimming is a far more laborious and time-consuming process. It requires a lot of patience to remove the leaves once they are dry as they become more scrunched up and attach themselves to your buds. Therefore, it takes a lot longer to remove the leaves and requires many hands if you have a big crop.
Another downside of dry trimming is that there is a higher likelihood that mold will develop between the flowers and the stalk. Dry trimming also requires the right environment – you need to have the right space to be able to hand your plants, that is also at a comfortable temperature for them.
However, many growers believe that the process is worth it as it gives the weed a more pleasant taste and aroma as the buds haven't dried out too fast and most of the chlorophyll will have gone from your plants.
What tools do I need for trimming cannabis?
Regardless of whether you choose the wet trimming or dry trimming method you will need to get your hands on some equipment to be able to successfully trim your plants. Obviously you will be needing some trimming scissors (check out our reviews below for some of the best on the market) but there are also a few other necessities such as a tray to keep your leaves in, gloves, cleaning fluid for your scissors, and something to dry out your leaves and buds on such as a string line or a specific drying rack. Make sure you are well equipped with everything you need before you start trimming as this is a very important part of the harvesting process.
#1 Best Trimming Scissors with a Curved Blade: Hydrofarm HGPP400C
This pruner from Hydrofarm is a great all-rounder. It is perfect for trimming your buds thanks to their curved titanium blades and ergonomic design. They are also perfect for trimming your leaves and small stems so whether you go for wet trim or dry trim these will be a great choice for precision trimming.
These pruners are also incredibly comfortable to hold (whether you are left handed or right handed) due to the comfort lock which reduces the strain on your hand whilst trimming. Their lightweight design also adds to your comfort. What's more, they come included with a holster so you can keep these safely attached to your belt when you're having a break.
#Bud_pruner #Wet_trim #Dry_trim #Trimming #Bud_trimming_scissors
#2 Best Trimming Scissors for Comfort: Fiskars Non-Stick Softgrip
For ultimate comfort then look no further than these trimming scissors from Fiskars. These are very well regarded in the growing world thanks to their ease of use, their comfort and their ability to precisely cut buds and small leaves off cannabis plants. With these trimming scissors in your hand, you can trim your leaves with ease whether it be a wet or dry trim you are doing.
Part of the reason they are so comfortable to use is the natural spring action which re-opens the blades after each trim which serves to reduce hand fatigue. These trimmers also have Softgrip handles which further assures your comfort and gives you good control. This product is also built to last – with stainless steel blades these trimmers will stay sharp for a long time even if you are using them frequently.
#Bud_pruner #Wet_trim #Dry_trim #Trimming #Precision_trimming #Non_stick #Stainless_steel
#3 Best Bud Trimming Scissors: VIVOSUN Gardening Hand Pruner
These precision trimmers from VIVOSUN are super sharp as well as being long and narrow which makes trimming your cannabis leaves accurate and productive. You can make quick work with these trimmers so are ideal if you have opted for a wet trim and need to get those leaves off as fast as possible.
Fitted with a spring-action the blades will re-open after you make a cut so that you don't have to – this helps to reduce hand fatigue and will ensure you are able to power on with your trimming. Other additions for your comfort are the soft grip rubber handles and lightweight design. They also have a safety latch fitted so these sharp blades can be kept closed when not in use. A great addition to your cannabis toolkit.
#4 Best Value Trimming Scissors: HFS Softgrip Micro-Tip
If you are on a budget then these trimmers from HFS are a good value option for trimming your cannabis plants. They have strong, sharp stainless steel blades which are ideal for getting at hard to reach places and will assist you in precisely trimming your leaves. The blades will also keep their sharpness for a long time.
Your comfort has also been carefully considered with these trimmers. The blades will re-open after each cut to save your hand from repetitive strain and the contoured soft-grip handle will give you a comfortable and firm grip on these trimmers. For quick and precise cuts then these trimmers are a great option for the price – they will certainly get the job done.
#Bud_pruner #Wet_trim #Dry_trim #Trimming #Precision_trimming #Stainless_steel
#5 Best Bowl Leaf Trimmer: iPower 16-Inch Leaf Bowl Trimmer
Here we have something a little different – a state of the art leaf trimmer which has the power of 30 pairs of scissors in one unit. It works with just the turn of a handle – place your untrimmed plants on the grill and turn for 15 to 30 rounds and it will trim your buds and leaves for you. Many growers have been amazed at how much time and energy this product can save you while still giving perfectly trimmed leaves and buds.
The clear plastic top means that you can see what is going on inside, so can keep a close eye on your plants. All the parts are removable which is great for storage and for cleaning. This product is particularly great if you have a lot of plants or have opted for a dry trim which is difficult when doing by hand. Don't be put off by the price – this is a great investment.
#Bowl_Trimmer #Wet_trim #Dry_trim #Trimming #Precision
Conclusion
The debate over wet trimming and dry trimming will continue in the growing world for years to come so really you need to decide what is the best option for you. If you are a beginner to growing it is a good idea to try out a wet trim first as this is easier and faster than dry trimming. Many growers opt for dry trimming as they love the flavor it gives to their harvest, and are willing to put in the extra effort for this. Whatever you decide, make sure you get some good quality trimming scissors to make the job a more pleasant and productive process.