Top 5 Best 420 Microscope ( 2023Reviews)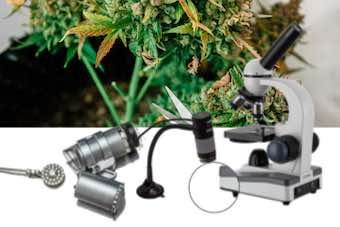 There are different types of marijuana growers. Some are only casual or recreational, trying their hand in cultivation. Others are more serious. They do it not only as a hobby but also as a business. If you belong to the latter, you will need to have the best 420 microscope. A weed microscope is a valuable tool when it comes to analyzing the quality of the buds.
The right microscope can be handy in ways more than one, such as in terms of assessing the impurities that are also present and in determining the potency of the marijuana. These benefits, however, can only be realized if you pick the right product, which is exactly why we have written this quick guide – to help you become a well-informed buyer.
Different Types of Magnification Devices
Before we proceed, let us a have a look at the different devices that can be used to have a magnified view of marijuana.
Handheld Magnifier
It is also often called a pocket microscope. The magnification range is usually 20 to 120 times. There are also many models that are equipped with a light for better illumination. However, because you hold it with your hand, using it can sometimes be difficult.
Jeweler's Loupe
This small device is often used for examining jewelry, such as the quality of diamonds. The magnification of this device is usually from 10 to 60 times. The magnification is lower compared to the other alternatives. If you are a casual grower, however, this will be enough.
Regular Microscope
This is the microscope that most of you have in mind, the type that you can find in a laboratory. This can be quite complicated to use for beginners, which is why you should choose a model that comes with a simple design.
Digital Microscope
If you are looking for an advanced microscope, this should be on the top of the list. It is sleek and compact. It offers a USB connection that can be linked to a compatible device where you can see a bigger picture of the marijuana compared to what you can see from the viewfinder.
Why You Should Use a 420 Microscope
To assess the overall quality of the marijuana – this is one of the main uses of a 420 microscope. This is an important tool for quality assessment, especially if the marijuana is going to be used for medical purposes. It makes it easy to detect the impurities that are possibly present in the marijuana before it is used.
To be more specific, a microscope is used to examine the trichomes in marijuana. Simply put, the trichomes are hair-like crystals, which are also known as resin glands. They are the ones that are responsible for the production of THC. If the trichomes are clear, this means that the marijuana is not yet ready for harvest. If they are cloudy, this means that the marijuana is already at its peak. If the trichomes are amber, this means that the plant is just starting to develop.
How to Choose the Best Marijuana Microscope
To help you come up with the right pick, here are some of the things that should be taken into consideration:
Magnification: It is important to have excellent magnification capabilities, which will allow you to have a closer look at what the eyes could not normally see.
Clarity: As the microscope magnifies your view of the marijuana, it is also important that the view remains clear.
Illumination: Especially in the case of the advanced models, they have built-in LED lights, which are great for providing illumination to the marijuana.
Durability: See to it as well that it is made of durable materials that can resist wear and tear, making it offer the best value for the money.
Ease of Use: Some of the features that will make the microscope user-friendly include being sleek and lightweight.
Best Microscope for Viewing Trichomes
#1 Editor's Choice: Carson MicroBrite Plus 60x-120x Pocket Microscope Review
#2 AmScope M150C-I all-Metal Optical Glass Microscope Review
This is a student biological microscope that can also prove to be an excellent choice for marijuana enthusiasts. From the products that are mentioned in this post, this is the only one that is a full-sized microscope. Nonetheless, there is still no need to worry as it is still fairly easy to use, basically because it is made with the needs of students in mind.
One thing that makes this great for viewing trichomes is the 360-degree swivel head, which can also be positioned at an inclined angle of 45 degrees. You will be able to see to trichomes precisely at such a position, made even better by the fact that there is a built-in illumination. The optical system is also fully-coated, minimizing the likelihood that your view will end up being blurred.
In terms of durability, you can be confident that this microscope will be equally impressive. It has a solid metal frame that comes with a scratch-resistant finish. The mechanical components, meanwhile, boast of all-metal construction. Plus, for your peace of mind, the manufacturer offers a five-year warranty.
Best Scope for Trichomes
#3 SE MW10087L Mini 16x Microscope with Illuminator Review
Even seasoned marijuana enthusiasts swear that this is an excellent choice for a scope that can be used for viewing the trichomes in marijuana. Despite the small size, the depth of field and the field of view are pretty much awesome. It is compact and lightweight, making it easy to bring with you even when you have to use it outside of the house.
This innovative pocket microscope has impressive technical features. On the top of the list is the 16 times magnification, making it effortless to see the small entities in the marijuana that the naked eye cannot see. There are also two bright LEDs, which will come handy if you need additional illumination.
The microscope is powered by 3 AG7 batteries, which are already included as a part of the kit you will purchase.
As a bonus, the scope also comes with a handy pouch, which will also be great to protect it from dirt and dust that can negatively affect its functionality.
Best Loupe for Trichomes
#4 Dreame LED Lighted Jewelers Eye Loupe Review
If a microscope is too big and advanced for you, this loupe can prove to be the perfect alternative. It is pocket-sized, which also makes it great if you are thinking of portability. One of the best features of this mini magnifying glass is the white LED lighting, which mimics the natural sunlight. This will provide you with a better view of the marijuana that is being examined.
This loupe is also great because of its user-friendly design. This is not one of those complicated microscopes that you see in a science laboratory. All that you have to do is to pull out the viewer and place it on the top of the cannabis to start viewing. No more need to make complicated adjustments!
The loupe comes with a dual lens. The primary lens is 30x22mm and the secondary lens is 60x12mm, providing you with the freedom to choose which one is more suitable for your need.
Best Digital Microscope for Trichomes
#5 Plugable USB 2.0 Digital Microscope Review
This is an upgraded and simpler version of the classic microscope. It is more compact and simpler to use, making it a great investment for marijuana enthusiasts. As it is digital, the highlight of this product is its USB connectivity. You can have it connected to a compatible software.
Equipped with a resolution of 2 megapixels, you will be able to easily see what makes up the marijuana. To add, it has up to 250 times magnification. Another innovative feature in this digital microscope is the capacitive capture button. The latter allows you to capture an image using the capacitive touch button instead of a physical button. There is also a built-in light for an illumination and a stand that can be adjusted depending on how near you want the microscope to be in your weed.
Best Magnifying Glass for Trichomes
#5 Fancii LED Pocket Magnifying Glass Review
Portable and reliable – these are two of the things that you can expect from this magnifying glass, which can be a handy tool for any marijuana enthusiast. It offers 10x, 20x, and 30x magnification, making sure that you will be able to have a clear vision of what your cannabis is made of. To make it even better, there is a built-in light.
In terms of clarity of the view, you will also find this to be exceptional. It offers a distortion-free view.
It is also discreet. It weighs only 1.6 ounces, making it easy to keep on the pocket. Plus, the magnifying glass slides out. There is even a carrying sleeve made of leather to keep it hidden from sight while also protecting from dirt.
You can purchase this magnifying glass risk-free. If you are unhappy in any way, you can return it to the manufacturer and they will issue an unconditional refund.
Wrap Up
Indeed, a 420 microscope, even in the form of a loupe or a magnifying glass, is essential for marijuana enthusiasts. It gives a better view of what cannot be seen by the naked eye. You can easily evaluate the quality and composition of the marijuana, especially its trichomes.